No matter the cost of dumpster rental Sarasota, it's a great investment for any property owner! Renting a dumpster keeps your yard clean during renovations, roofing, and other such work. A dumpster is also a great choice for major cleanouts of a home or office.
A dumpster rental company can tell you exact dumpster rental prices near you, but you might note how these prices are usually calculated. It's also good to consider what can increase those costs unnecessarily! This information will help you know what to expect and can also help you choose the best dumpster rental services for your project.
With the Cost of Dumpster Rental Sarasota Residents Pay, What Are Common Sizes?
The cost of dumpster rental in Sarastoa, in most instances, is calculated according to cubic yards. A dumpster 8 feet deep, 3.5 feet tall, and 10 feet wide is considered 10 cubic yards. A dumpster 8 feet deep, 3.5-4 feet tall, and 20-22 feet wide is 20 cubic yards.
To help you picture these sizes, a 10-cubic-yard dumpster will usually hold the equivalent of 3 standard pickup trucks. This is often one of the smallest dumpsters you can rent and is good for cleanouts and renovation projects.
Most 10-cubic-yard dumpsters usually run around $250 to $350 for 3-day rentals. This typically includes delivery and pickup. This price will go up for larger dumpsters, including those that are taller and deeper.
What Are Some Added Fees for Dumpster Rental?
Let's talk about the average cost of dumpster rental in Sarasota, FL. Expect to pay around $300 on average for a small, 3-day dumpster rental and figure there will be additional costs for added days. Some companies will tack on additional charges for overly full dumpsters, meaning those with rubbish past the dumpster brim.
Most dumpster rental companies also restrict what you can add to a dumpster. For example, they might not allow aerosol cans, batteries, and toxic chemicals. If you add these to a dumpster, your rental company might charge certain disposal fees not included in your rental price.
Every dumpster rental agency calculates its own added fees, so be sure to read the "fine print" of any contract. This will ensure you know what to avoid so you don't face unexpected costs for a dumpster rental in Sarasota, FL.
What Type of Dumpster Rental Do I Need?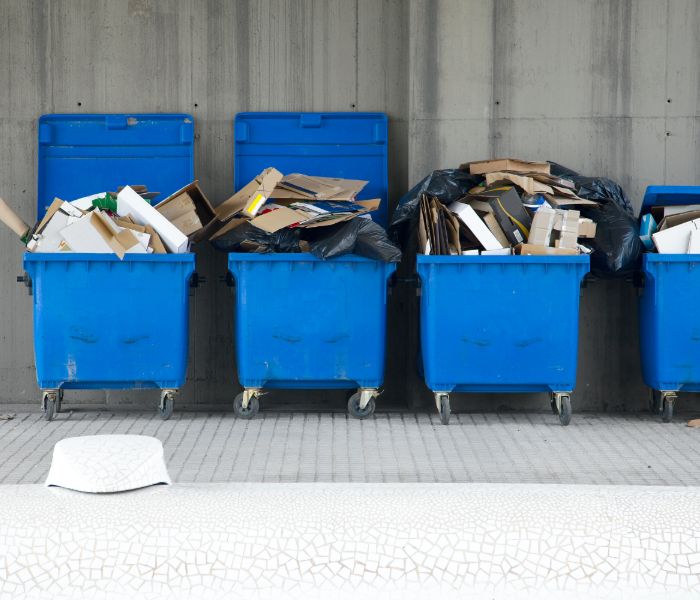 Before figuring out the cost of dumpster rental Sarasota, you need first to determine what kind of dumpster rental you're going to need. There are many sizes and shapes, and the price varies with each one.
Most property owners will use a roll-off dumpster. These have wheels that make it easy to load and unload the dumpster. The wheels are also easier on surfaces such as painted concrete than dumpsters lifted into position.
Commercial property owners might choose a commercial-rated compact dumpster. As the name implies, these allow you to use a metal arm and compact trash as it's loaded. Compacting dumpsters are large and require access to electricity, but are excellent for bigger projects such as renovation work.
A walk-in loading option is an excellent junk removal choice if you'll be adding heavy or cumbersome objects to the dumpster, such as furniture. Walk-in dumpsters have a door for easier access to the dumpster interior. A door means not having to lift those heavy objects over the dumpster side!
When Should I Rent a Dumpster in Sarasota?
When is it time to search dumpster rental near me? When is it time to invest in the cost of dumpster rental in Sarasota? A dumpster rental is a great choice if a project will produce more waste than you can put in your everyday trash, for example:
Choose a dumpster rental for estate cleanouts after a death in the family.

If you're moving and don't want to pack up years of "stuff," opt for a dumpster rental before the move. You can then get rid of clutter and anything else you don't want or need in your new home.

Choose a dumpster rental if you know it's time to clean out the house for any reason! If the kids have moved out and left behind lots of unwanted childhood items, or you know you'll never use all that "stuff" sitting in the basement or garage, rent a dumpster and treat yourself to a full-scale cleaning.

Home renovation and repair projects typically produce lots of trash and debris you cannot simply put on the curb. Opt for a dumpster rental if you're planning on building a new deck, tearing off some roof shingles, tearing down an interior wall, or any similar home improvement projects.

Dumpster rentals are also an excellent choice if you're planning new landscaping or exterior cleanups. Don't even try to break down fallen branches or torn-up hedges and put them in everyday trash bags! Instead, opt for a dumpster rental, for easy disposal of all your unwanted plants, shrubs, weeds, patio pavers, and debris.
Sarasota Dumpster Rental is happy to bring this information about dumpster rental prices in Sarasota to our readers. If you still have questions about temporary Sarasota dumpster rentals, call our experienced Sarasota dumpster rental contractors. We'll help you choose the best dumpster for your project and explain its use as well. For more information or to get started with your FREE budget dumpster in Sarasota quote, give us a call today.